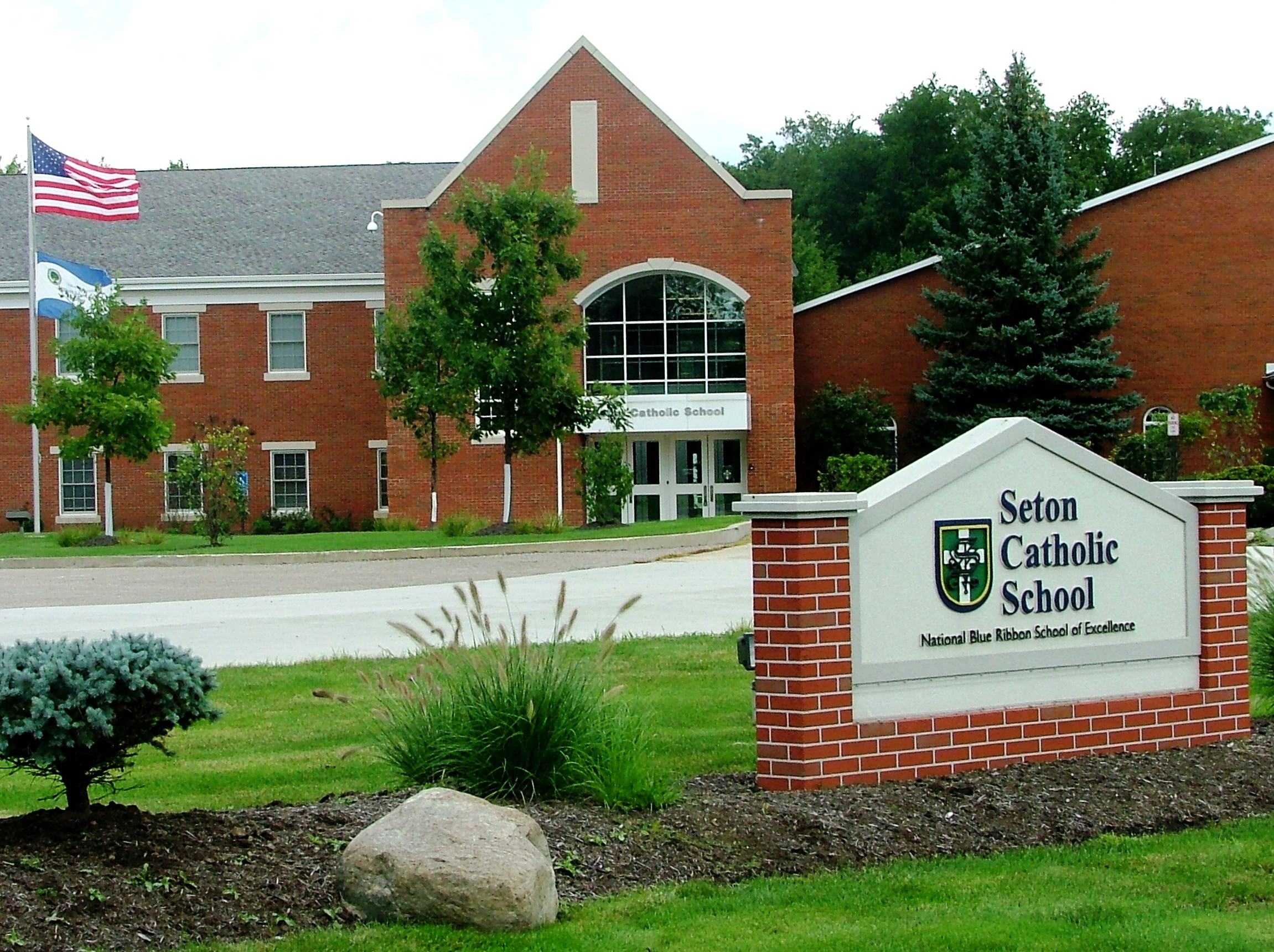 A dream put into action by a group of parents is how the Seton story began. In 1994, a group of parents near Hudson, Ohio, discussed the limited options for Catholic elementary education in their community. Unwilling to accept that their children could not be educated in the Catholic school system due to full enrollments and long waiting lists at neighboring communities' Catholic schools, they formed an exploratory committee to determine need and support for a new Catholic school in Hudson.
They began by approaching their home parish, St. Mary Church in Hudson. In June 1995, the pastor allowed this core group to poll the parishioners to determine a level of interest in developing an elementary school. Informational meetings followed, and it was determined that there was a tremendous amount of support and enthusiasm for a school.
The group of parents approached the Diocese of Cleveland and sought Bishop Pilla's approval to found a regional Catholic elementary school independent of any parish. Bishop Pilla supported this idea, and the parents began a two-year journey of faith toward opening an independent Catholic school.
On opening day in 1997, 83 students in Kindergarten through grade six entered a 26,468 square foot building consisting of seven classrooms and ten teachers. Today, the 9-acre campus adjoining Hudson Springs Park comprises a 46,854 square foot building that is a wireless facility with 23 classrooms enhanced with distributed audio systems, 53 faculty/staff, 425 students in Kindergarten through grade eight; The Burton D. Morgan Science Lab; 1 to Infinity initiative with Chromebooks for all students; interactive Smartboards and ActivPanels; library; Instructional Technology Center; scholarship and award-winning student body; and a trophy-telling CYO sports program.
Piano, strings, music, orchestra, choir, art, Spanish and French, physical education, sports, student council, student ministry and numerous co-curriculars are offered within a strong faith-based academic curriculum. Standardized test scores are excellent and graduates have been accepted to and are attending exceptional high schools and colleges.
The Valentine Family Center at Seton Catholic School was dedicated and opened in the Spring of 2014, The Family Center is a premier facility housing a full-size competition Gymnasium, Performing Arts Stage, Meeting and Office Space, and an Outdoor Classroom Pavilion.
Seton's Corridor for the Future opened in August 2021. Twelve classrooms, collaboration spaces, offices, and meeting rooms enhance the experiences of the students. Current space was renovated to create a Multi-Media Center, Pre-Kindergarten Classroom, Board Room, and Staff Commons. The vision of Seton's Founding Families to connect all spaces on campus was complete.
In August 2021, Seton's inaugural Pre-Kindergarten Class was welcomed to the school community.
The newest addition to Seton's campus is the Outdoor Prayer and Learning Space, a space dedicated to outdoor worship and educational experiences outside of the typical classroom.
Mother Seton was canonized on September 14, 1975. She is patron saint of Catholic schools, children near death, and persons rejected for their Catholic faith. Seton Catholic School embraces her life, energy and faith — a faith in action that serves as our daily inspiration.
The "Hazard Yet Forward" bronze sculpture of St. Elizabeth Ann Seton that graces the entry way to our school was crafted by the hand of Sister Margaret Beaudette, SC, a sister from the order Sisters of Charity founded by Mother Seton. It was a gift to the school by the Class of 2006 and their families.